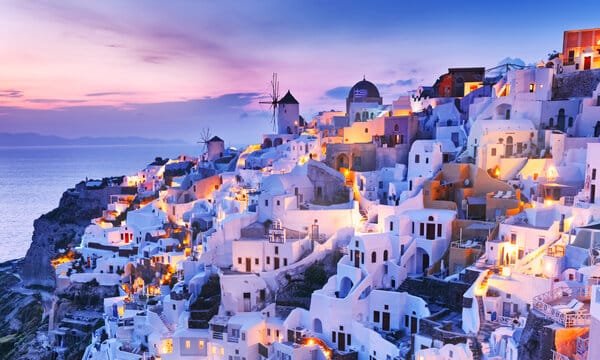 Greece is a country in southeastern Europe with thousands of islands throughout the Aegean and Ionian seas. Influential in ancient times, it's often called the cradle of Western civilization. Athens, its capital, retains landmarks including the 5th-century B.C. Acropolis citadel with the Parthenon temple. Greece is also known for its beaches, from the black sands of Santorini to the party resorts of Mykonos.
Major islands include Crete, home to the Palace of Knossos, famously associated with the mythical Minotaur. Thessaloniki, Greece's second-largest city, was an important commercial center during the Byzantine Empire. Mountainous, mainland Delphi was home to a famous oracle at the Temple of Apollo. Olympia, on the Peloponnese peninsula, was birthplace of the original Olympic Games. The Aegean island of Rhodes was settled by the Knights of St. John, before becoming part of the Ottoman Empire. Greece's traditional cuisine features such staples as lamb, fish, feta cheese, tomatoes and olive oil.
Travellers to Greece inevitably end up with a favourite site the long to return to- so get out there and find yours!